Opinion: Ukraine conflict shows urgency of SDR reallocation for Africa
By Amadou Hott, Daouda Sembene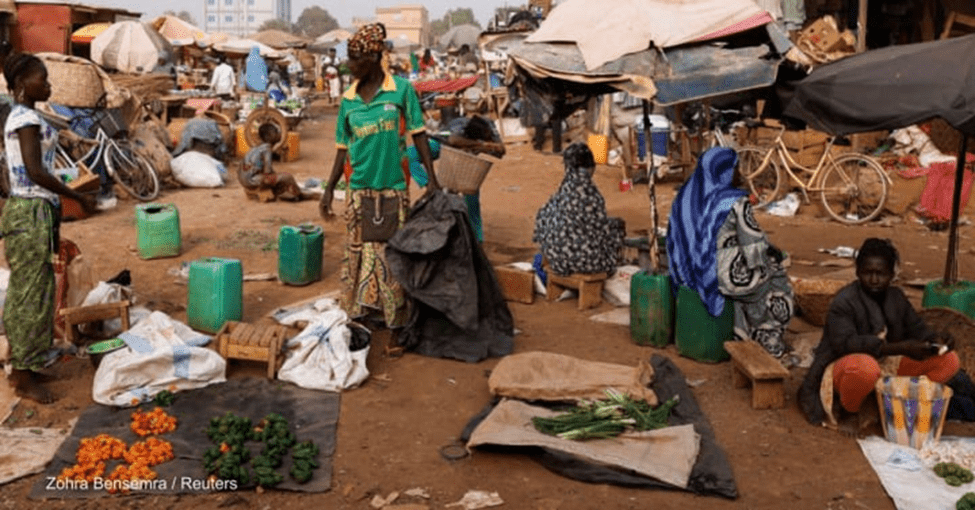 Women street vendors at a market in Ouagadougou, Burkina Faso. Photo by: Zohra Bensemra / Reuters
In June, the Group of Seven leading industrial nations announced a plan to reallocate $100 billion out of $650 billion in new Special Drawing Rights to low-income countries, small island developing states, and the most vulnerable middle-income countries. This plan, subsequently reaffirmed by leaders of the larger Group of 20, is intended to help further strengthen the resilience of public health systems and provide a stronger, greener, and more sustainable economic recovery in these countries.
As such, the International Monetary Fund was asked to explore options for channeling SDRs to improve delivery of climate and health global public goods across the developing world. In that spirit, the institution has commendably made progress toward the establishment of the Resilience and Sustainability Trust, which took effect May 1.
A key lesson from the crisis caused by the war in Ukraine is that the global community needs to not only accelerate the delivery of global public goods but also tackle the vulnerability of lower-income nations to global shocks. Economic shocks, such as those reverberating from the situation unfolding in Ukraine, weaken the ability of policymakers in low- and middle-income countries to care for global commons. They exhaust the limited available resources, crowding out other priority spending critical for sustainable development.
Today, our world is exposed to a shock of historic magnitude, threatening to further aggravate the health, economic, and social vulnerabilities that the COVID-19 pandemic exposed. For African economies, the ramifications of the war in Ukraine are concerning given their exposure to both Ukraine and Russia, which account for a critical share of their imports of cereals and fertilizers. Many countries are currently feeling the brunt of rising inflationary pressures, growing supply chain disruptions, and worsening risks of food inConsequently, prospects for quick, equitable, and strong recovery continue to be subdued and the poverty reduction gains, arduously secured in recent decades, are at risk of being further eroded. It is estimated that 97 million people around the world have been pushed to extreme poverty by the COVID-19 pandemic. More than half reside in sub-Saharan Africa and many more are now facing a similar fate.
So how do we address this shock and make life better for the millions of women and men on our continent still living in extreme poverty?
In the short term, experience shows that access to rapid financing can be highly effective in helping reverse these potential trends and mitigate the disastrous economic consequences stemming from the conflict.
Given the urgency to act now, G-20 countries should promptly deliver on their plans to reallocate part of their SDRs. This is one of the quickest and most cost-effective ways to mobilize additional liquidity for vulnerable African countries, as policymakers struggle to generate the necessary fiscal space to adequately respond to the food and energy price shocks and the lingering effects of the COVID-19 pandemic.
Some members of the G-20 have already committed to channel part of their SDR holdings to IMF, enabling IMF to secure pledges amounting to about $60 billion. Their peers should quickly follow their lead for the benefit of countries most in need on the continent and beyond.
By helping improve the lending capacity of IMF's concessional financing facility — the Poverty Reduction and Growth Trust — SDR reallocations will strengthen IMF's rapid response program and help our countries secure low-cost access to emergency financing to respond to the current global economic shock in a timely manner.
However, the support of IMF alone will not be a panacea. Given the magnitude of the needs arising from the pandemic and exacerbated by the unfolding situation in Ukraine, it urgently needs to be augmented with the contribution of other multilateral partners.
Hence, it is critical to reinforce the lending capacity and crisis management tools of regional and multilateral institutions, such as the African Development Bank, notably through SDR reallocation. Given their capacity to leverage private capital, these institutions are well-suited to play a critical role in supporting efforts to foster an inclusive and sustainable recovery.
Undoubtedly, SDR reallocation through multilateral development banks and any other prescribed holders may pose major challenges in donor countries depending on existing legal, regulatory, and institutional frameworks as well as their reserve positions.
But what the pandemic and Ukraine crises have also revealed is that no goal is out of reach for a strong coalition of willing partners united by a relentless determination to work hand in hand for the common good.
We are living in historic crisis times. Let us work to make 2022 the pivotal year when the global community reinvents the role of the SDR system in the global financial architecture to leave no lower-income country behind.

https://www.devex.com/news/opinion-ukraine-conflict-shows-urgency-of-sdr-reallocation-for-africa-103279